Preschool and Daycare in O'Fallon, IL
Tinee Treasure Preschool and Childcare Center provide incomparable daycare and preschool programs for children ranging from six weeks to five years old. Our early childhood education programs are designed to create stimulating environments that aim toward the progression of your child's developmental milestones, getting them prepared for a future of success.
At Tinee's, we understand the importance of your child's early years; we aren't just a daycare that takes care of your children but rather prepares them for their future. Every month our teachers and staff introduce new skills across different learning domains, geared toward progressively building your child's development in subjects relating to:
Infant Care (6 weeks-14 months)
Our team understands the challenges that parents face when being separated from their infant; missing out on the possibilities of their first smile or first squeal. Therefore, our infant daycare program is about establishing a partnership between the parents and teacher – working with you to help your baby develop their skills while capturing special moments in the process. Every day you receive written reports on your infant's feeding, sleeping, and learning activities. With our curriculum, your infant will establish their foundational skills through care and engaging activities in a calm and safe environment.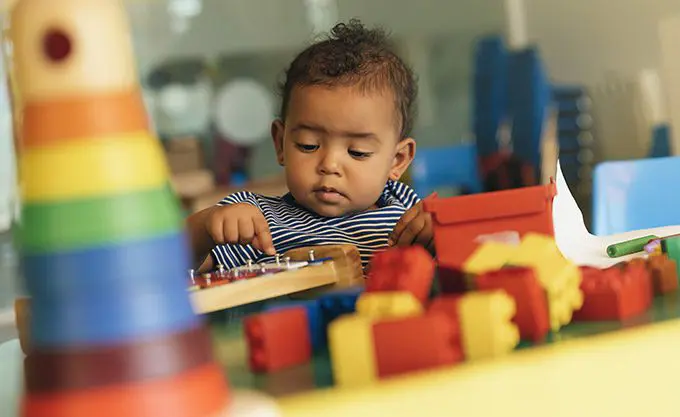 Toddler Care (15 months-23 months)
Toddlers tend to be a little more mobile, which is why we try to channel that energy and curiosity into an interactive and stimulating daycare environment. Our professional and certified staff assist your toddler during this time of dramatic growth, helping them foster their cognitive, socio-emotional, and physical development through activities like art, dancing, music, reading, and outdoor fun. This is the stage where your toddler has ample choices to help express themselves and start gaining self-confidence and independence.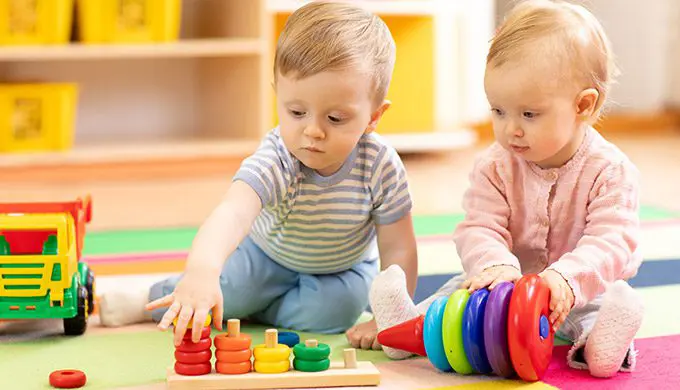 At this stage of early development, your two-year-old needs stimulating experiences in a secure environment. With small classroom settings, our teachers provide your child with daily routines consisting of arts & crafts, pretend play, language, rhyming, and counting. They will have the ability to make independent choices and establish cooperation skills by working with their peers, helping to find the confidence needed for success in preschool.
Preschool (3-5 years-old)
Tinee Treasure's preschool program is designed for children to explore the world that surrounds them and learn from it. Through storytelling, puppet play, and outdoor activities – we engage your child's curiosity with fun and thought-provoking activities that improve their cognitive, socio-emotional, and physical development. After our professional teachers are finished with their curriculum, your child will be successfully singing and counting their way to kindergarten.
We make it our mission to provide a stimulating environment to help children become confident and independent learners through positive reinforcement.
We provide a safe, healthy and nurturing environment for your child's developmental years.